Meet Michelle Windle, Krav Maga and Yoga Instructor at Fit and Fearless!
Michelle has been a Krav Maga instructor with Fit and Fearless since 2010 and got her yoga certification from Yoga Yoga in 2017. Michelle is definitely the strong silent type around the gym, so we were very excited to talk with her and learn a little bit more about her training and path to becoming an instructor.
What brought you to Fit and Fearless?
I used to be in the military. It's kind of strange because I didn't grow up playing sports, or like getting dirty. I didn't know how to do even one push-up. My job was a Chaplain assistant. A couple of my Chaplains didn't carry a weapon so it was up to the assistant. That is what made me start martial arts. I had an amazing teacher who taught me punches and kicks and I fell in love with martial arts. I moved back to Austin in 2005, where I'm originally from, and needed to find something similar and I found Fit and Fearless.
Why did you choose to become an instructor?
It never crossed my mind that I could be an instructor. One day my instructor, Wayne Miller, asked if I would be interested. I knew that the best way to learn anything was to teach it so I said yes. The first lesson from him was to believe in your students.
How has being an instructor changed you?
I experienced anxiety being of front of the room and all through my phases/certifications. My instructor, Kelly Campbell, would have me be the first to teach. She asked me "Do you love what you do? Then go up there and do what you do" I learned no matter what you fear, do it anyways.
One of my best instructors, AJ Draven, reassured me when I had my doubts. He told me "You are small, and a woman so you have to work twice as hard but you can use this as an advantage." The person that influenced him when he started was small and a woman. Another great instructor,
Darren Levine taught hook punches and inside defenses at my Phase A. For those who don't know who he is, he is the chief instructor of KM Worldwide and he received his training directly from Imi Lichtenfeld. Darren has such a passion for Krav Maga and I can feel it deeply when he speaks. One thing I remembered him saying "We become great instructors not for us but for all the people we can teach and reach to Walk in Peace."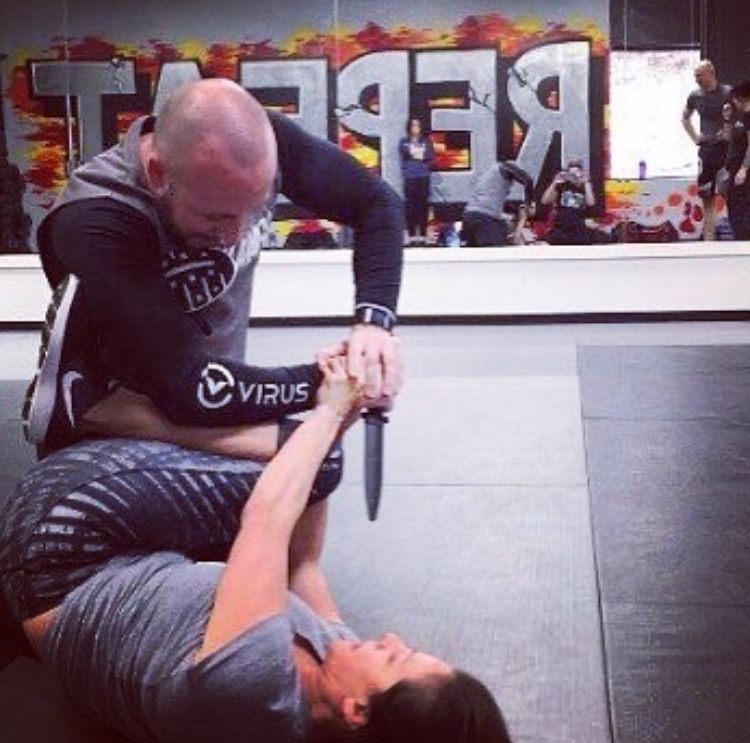 What classes do you teach?
Every Monday, Level 1 at 6:45pm and Combatives Conditioning at 7:45pm. Every Tuesday, Level 2 at 6:45pm and Yoga at 7:45pm.
What made you decide to become a yoga instructor, and has that changed how you look at / teach Krav?
Yoga was a good counterbalance to Krav. In Krav, we use the sympathetic nervous system (stress response) and yoga uses the parasympathetic nervous system (rest and digest). In addition to teaching I work full time as an inside sales/sales admin, have a family, & maintain a house - yoga has taught me to rest when I need to and listen to my body. Krav Maga is a great workout, but also can be intense. Incorporating yoga to stay calm when someone has their knee or body on my chest in ground fighting is just one example of how yoga has helped my Krav.
What are your favorite classes to take and why?
My favorite classes are Monday's Ropes and Kettlebell, because my goal is to gain muscle. I like Saturday Kickboxing because another goal is to lose body fat. To work the technical side, I like Sparring classes.